PRESIDENT, KUALA LUMPUR WAR CRIMES TRIBUNAL
Prof Salleh Buang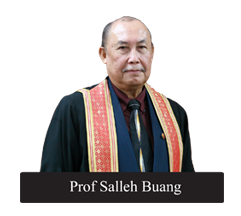 Judge Salleh Buang, a Barrister-at-law from Lincoln's Inn, England, formerly served as a Federal Counsel in the Advisory and International Law Division of the Attorney-General's Chambers, Kuala Lumpur, before he left for private legal practice, the corporate sector and finally academia. In 1972, he was trained under a post-graduate UN fellowship at the International Court of Justice at the Hague, Netherlands. A full-time consultant, author and columnist, he had served as a  member of the Panel of Judges of the Kuala Lumpur War Crimes Tribunal in its proceedings in 2010, 2011 and 2012.
Tunku Sofiah Jewa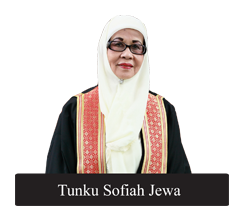 Judge Tunku Sofiah Jewa was called to the English Bar at the Honourable Society of Lincoln's Inn in 1970. She graduated from the University of Miami with the LLM in 1973 and the PhD in 1976. Her areas of specialisation for the doctoral degree were International Law, Ocean Law and International Relations. She taught Public International Law at the University of Malaya before venturing into private practice. She is the author of "Public International Law – a Malaysian Perspective" and "The Third World and International Law". She had served as a  member of the Panel of Judges of the Kuala Lumpur War Crimes Tribunal in its proceedings in 2010, 2011 and 2012.
Prof Shad Saleem Faruqi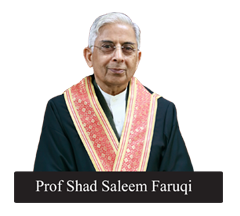 Prof Emeritus Datuk Dr Shad Saleem Faruqi is a Professor of Law at the Universiti Teknologi MARA, Malaysia. Professor Faruqi taught at the International Islamic University, Petaling Jaya, for several years prior to his current position as a consultant to UiTM. He is an acknowledged expert in consitutional and administrative law and in jurisprudence. He has also been involved in international consultancies for the Maldives, the Philippines and Cambodia. He had served as a  member of the Panel of Judges of the Kuala Lumpur War Crimes Tribunal in its proceedings in 2010, and 2011.
Datuk Mohd Saari Yusof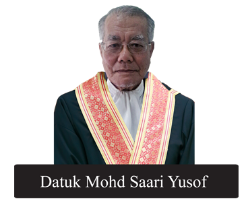 A barrister-at-law Inner Temple, London, graduated in September 1969. Joined the judicial service at Magistrate and Registrar of High Court from 1970 until 1974. Served as Federal Counsel in Attorney General's Chambers and in Ministry from 1975 until late 1980. Served as President Session Court Alor Setar, Kedah from 1980 until late 1982. Served as State Legal Advisor Penang from 1982 until late 1988. Served as Judge-Advocate-General in Ministry of Defence in 1988 for over a year. Elevated to the bench as Judicial Commissioner in 1990 followed by elevation as High Court Judge in 1992. Elevated as Judge of Court of Appeal in 2000. Retired in June 2003.
John Philpot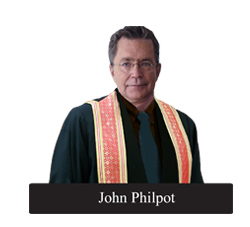 John Philpot is a senior criminal litigation attorney. Member of the Barreau du Québec since 1984, he has practiced Criminal Law in Montreal since 1984 and International Criminal Law since 1998. John has pioneered litigation in International Criminal Law. He conducted the Appeal of Mr. Jean-Paul Akayesu, the first person convicted at trial of genocide at the International Criminal Tribunal for Rwanda (ICTR) . He was also the Secretary General of the American Association of Jurists from 1994 to 1997 and Associate Secretary General from 1997 to 2000.
Dr Tunku Intan Mainura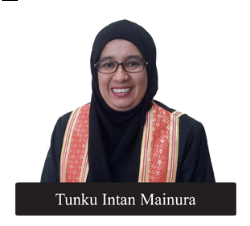 Dr. Tunku Intan Mainura holds a PhD in Outer Space Law of Newcastle University, United Kingdom. She has represented the country in numerous international conferences with her research in diverse areas of laws. Dr. Tunku Intan is currently a senior law lecturer of Public International Law at the Universiti Institut Teknologi Mara UiTM, Malaysia.
REGISTRAR OF THE KUALA LUMPUR WAR CRIMES TRIBUNAL
Musa Ismail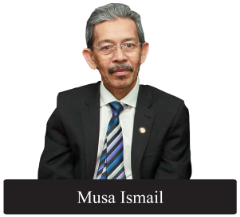 Musa bin Ismail, a graduate of University Malaya is currently a lawyer at the firm of Messrs Musa & Co. in Kuala Lumpur. He had served as Magistrate for 4 years and as in-house counsel for another 2 before starting his private practice in 1987. His practice areas are Criminal Law, Land Acquisition, Conveyancing, and Administration of Estates.
For inquires about tribunal please email to admin@criminalisewar.org